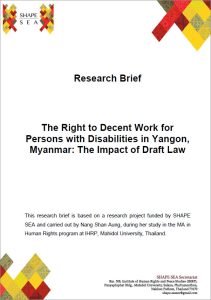 The study undertaken suggests that persons with disabilities in Myanmar continue to face major obstacles and discriminations, whether deliberate or not, regarding job opportunities available to them. Within the household, persons with disabilities being considered as 'abnormal' along with the stigma attached to it has resulted in depriving them of medical aids, at least until a much later age. Outside the household, disabled unfriendly or lack of infrastructures and facilities creates barriers for persons with disabilities to avail job opportunities. In addition, Myanmar despite having national law for persons with disabilities and also being State party to the CPRD, the lack of implementation of relevant laws denies them of the rights of persons with disabilities. This study interviewed persons with disabilities and people working in this sector revealing the problems faced in securing good employment. They are the non-implementation of domestic law, the traditional attitude of Burmese people of persons with disabilities; and the varied challenges faced by persons with disabilities which are not taken into consideration in respect of employment opportunities.
Researcher: Nang Shan
Nang Shan is a Kachin ethnic from Myanmar, who is a graduate of the Faculty of Law, Dagon University, Yangon, Myanmar. She worked previously with the Myanmar National Human Rights Commission as a Human Rights Officer.
Research Brief:
Country: Myanmar
Topics: Person with disability