Research Grant – One year ( February 2017-February 2018)
University Affiliation:  University of Indonesia and University of  Mahendradatta, Indonesia
Research objectives 
 To publish a policy paper which examines Indonesian recent approaches and context  on abolition of the death penalty on drugs war mitigation and the current criminal justice system, focusing on the death penalty, the context of death penalty as punishment  and as a human rights issues in Indonesia ,  the  challenges and potential  to abolish the death penalty or to incorporate alternative human sanctions in the continuing  process of death penalty  and the implementation on ICCPR  (the International Covenant on Civil and Political Rights).
Significance of research 
As a reference for policy makers  incorporating in the  law  to promote and protect human rights and to publish Policy Paper on humane alternative sanctions to death sentence ;  a reference  or guideline for legal enforcers, policy makers, researchers, lecturers,  non-governmental organizations, members of parliaments,  university students on using humane alternative  sanctions  in the future and  for promoting human rights.
Personal bio 
Inosentius Samsul, graduated from Doctoral Program Faculty of Law University of Indonesia, a teaching faculty at Faculty of Law University of Indonesia, visiting lecturer at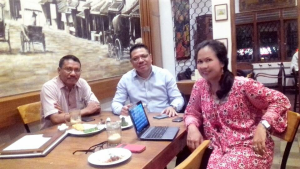 Faculty of Law University of Pancasila, Jakarta , Faculty of Law University of Atmajaya , Jakarta, Academic Director of Post graduate  program in Law University of Mahendradatta Bali and currently as the Head of Legislation Drafting Unit at the House of Representative Indonesia Expertise Council.  Inosentius and his team , comprises of  outstanding senior researchers  who are ; Erikson Sihotang, Lydia Suryani,  Nukila Evanty and Simplexius Axa  . Inosentius has been involved in making academic draft  and policy paper such as as in the Social Conflict Management Law in 2012, lead Researcher on Initiative Law proposed by the House of Representatives  of Indonesia  such as the draft law on Indigenous Peoples in 2014 and lead Researcher on Academic Draft on the Truth and Reconciliation Commission (TRC).