10-12 October, 2016
Bangkok Thailand
Reclaiming Lost Ground – SEAHRN's Fourth International Conference on Human Rights and Peace and Conflict in Southeast Asia was a two and a half day conference. The conference was a convergence of  almost 330  academics, researchers, human rights activities, members of the civil society, and representatives of the funding and hosting organizations.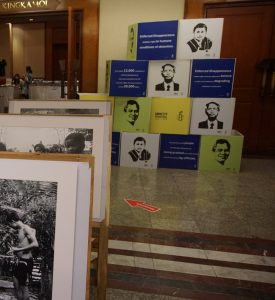 30 organizations – INGOs, CSOs, and NGOs participated in the conference in varied capacities. Amnesty International, ARROW, Forum Asia, Try Arm,  Caritas Thailand, Asylum Access Thailand were among the few that attended.
Panel speakers and paper presenters represented a range of NGOs and INGOs working on various human rights issues in the region. These included Green Peace Southeast Asia, Asia Pacific Forum on Women, Law and Development; Asia Climate Change Consortium, Southeast Asian Press Alliance, Thai Netizen Network, Amnesty International – Southeast Asia and Pacific, Media Link Indonesia, Southeast Asia Monitor for Human Rights and Justice, and INFEST.
Participants in the conference represented UPR Info Asia, Green Belt Trust, Counter Foto, Equal Rights Trust, Smile Foundation, Asia Pacific Refugee Rights Network, Project X, Land Core Group, Environmental Protection Society Malaysia, Civil Rights Defenders, UNESCO Thailand, among others.