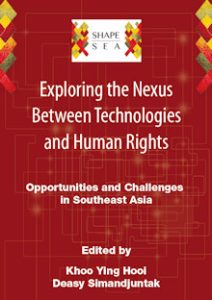 Within ASEAN/Southeast Asia, technologies have shaped ways that we develop and disseminate information about our experiences and identities. Furthermore, technologies have helped defy political and social norms, and have broken structural, language and even, ideological barriers amongst individuals and groups. People who are silenced, marginalized, and powerless have indeed found an ally in social media. However, many governments deem this phenomenon to be threatening. This digital revolution has pushed many ASEAN governments to regulate online activities in the pursuit of protecting social harmony and national interests and peace.
The proliferation of technology has brought about positive benefits to communities and societies. Technology has contributed to the improvement of the protection of rights, the storage and consumption of data, and the transparency of supply chain. Furthermore, technology has now become a major tool to guarantee the quality of education for all people by online learning that helps around 150 million children around the world. In terms of the storage of data, there is vast amount of data on migration, tracking device, sensors, and environmental condition. Lastly, technology is also seen as a pathway to improving the human rights in labour supply chain where it is estimated that 30 million people currently work in forced labour, as it enables an authentication mechanism that provide transparency in supply chains of many corporations.
However, mass developments in online platforms, artificial intelligence, and automation raise serious questions about potential harms against human rights and freedoms. There is a risk that the use of technologies (both hardware and software) may result to further economic and social inequalities and injustice. The growth of the giant economy facilitated by technology has contributed to changes in natures of work by increasing the availability of flexible positions that provide opportunities for some while negatively affecting the livelihoods of others. Additionally, the mass collection of data could potentially lead to violations of the right to privacy and make it easier for governments to monitor the activities of activists arbitrarily. Moreover, the use of technology to spread fake news and facilitate cyber bullying and violence, most of which are against women, has endangered one's personal security and freedom of expression.
SHAPE-SEA's "Exploring the Nexus between Technologies and Human Rights: Opportunities and Challenges in Southeast Asia" and its ten chapters seek to analyse potential and existing impacts of technology towards various human rights in ASEAN/Southeast Asia. The book is a collaboration between SHAPE-SEA and Southeast Asian academics and human rights advocates, led by Dr. Khoo Ying Hooi (Universiti Malaya) and Dr. Deasy Simandjuntak (ISEAS-Yusof Ishak Institute.)
Download
Author: SHAPE-SEA
Editors: Khoo Ying Hooi and Deasy Simandjuntak
Topics: Human Rights, Technology, Education