Sophea Try
Student, Asia Pacific MA Human Rights and Democratisation
Global Campus of Human Rights Asia Pacific
Institute of Human Rights and Peace Studies, Mahidol University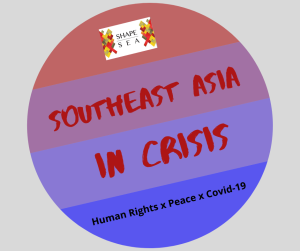 In the midst of the Covid-19 pandemic, Thai government has imposed many restrictions to curb the spread of the virus as the country reported more than hundreds new infected cases daily. Different sectors across the country had to suspend their business and productivity due to the lack of supplies and to abide by government orders. Thousands of migrant workers who are currently working in those sectors were asked to put on leave. Later, the Thai government ordered the closure of all borders with neighboring countries in an attempt to prevent the spread. This restriction brought the massive fleet of migrant workers to their respective home countries. About 60, 000 migrant workers were able to cross the borders to Cambodia, Lao and Myanmar before the borders shutdown (Thepgumpanat, 2020). The situation is still getting worse from day to day in which the government decided to declare a state of emergency for the whole country for one month from 26 March to 30 April 2020 (Boonlert and Sattaburuth, 2020). Thousands of migrant workers were not able to return home and are currently facing economic backwardness, unavoidable health insecurity, and uncertain future.
While this current global health crisis has disrupted everyone, the Thai government also provided urgent measures to remedy affected people. The Ministry of Labour had announced the extension of the over stay and work permit for migrant workers until 30 June 2020. The cabinet's resolution had mentioned the cover of Covid-19 treatment for insured persons entitled under the Social Security system. Interestingly, remedial measures also implemented to help workers–who are affected by officials' order to close down their business–to receive compensation at half of the wage for up to 60 days, while those who are laid off will receive at half of the wage for no more than 180 days (Ministry of Labour, 2020).
The announcement allows migrant workers to remain in the country and continue working even if their work permit is expired. This suggests that more attention has been paid to the exemption of the penalty for overstay rather than addressing the well-being of migrant workers who cannot afford their daily life in the country when they do not get any jobs. Unlike other workers in formal sectors, migrant workers cannot work from home and receive the wage. Once the business or factories close, they lose their income. For them, the main concern is not about getting infected with the Covid-19, they are afraid of the unaffordable living and dying from hunger in the foreign land.
Those migrant workers who remain in Thailand not only lose their daily income but also at great risk of exposure to the virus. These groups are inevitably less able to protect themselves because they live in congested shared quarters, lack of adequate water, and sanitation. Although the government has recognized that migrant workers–both documented and undocumented–have the rights to Covid-19 information and treatment as well as other entitlements and benefits the same to Thai workers, there are still existing gaps in this provision and implementation. Migrant workers are still unable to access healthcare and other related information due to their accessibility, availability, and affordability. Only documented migrant workers who are under the protection of the existing laws can claim for the benefits, while undocumented migrant workers are unlikely to seek for the treatment due to the fear of their illegal status. Not all documented migrant workers have proper documentation or health insurance provided under the Social Security Act. The failure of the document led to denial of healthcare service and basic needs as well as creating fear, anxiety and discriminatory among and against the migrant workers.
More than this, the remedial measures provided by the government leave unclear provision whether migrant workers who have been laid off or asked to take leave without pay are entitled to the benefit and even if they are entitled to receive the compensation, what is the guideline or procedure to apply for those benefits. The majority of migrant workers are employed in the informal sector, in which regular pay is not well guaranteed.  Without clear provision and enforceable mechanisms, thousands of migrant workers fall outside the scope of protection during this inevitable crisis.
The government must ensure that human rights remain central attempts at all costs and the government should be aware of the special needs of the marginalized groups. State under international law is obligated to ensure that everyone in its territory can attain standard living and the highest attainable standard of health. Therefore, the government needs to take urgent steps to ensure that migrant workers, especially undocumented workers can get access to food, other basic needs, and healthcare which include the preventive care, and medical care without any discrimination or any fear of arrest or deportation.
References:
Boonlert, Thana and Sattaburuth, Aekarach, 2020. Lockdown Upends People's Lives. Bangkok Post, [online] 28 March. Available at: <https://www.bangkokpost.com/thailand/general/1887940/lockdown-upends-peoples-lives> [Accessed 30 March 2020].
Ministry of Labour, 2020. Good News for Unemployed Workers and Businesses as Labour Minister Announces Cabinet's Resolution on Remedies for Covid-19. Division of Public Relations, [online] 25 March. Available at: <https://www.mol.go.th/en/news/good-news-for-unemployed-workers-and-businesses-as-labour-minister-announces-cabinets-resolution-on-remedies-for-covid-19/>[Accessed 30 March 2020].
Thepgumpanat, Panarat, 2020. Thai Lockdown Sparks Exodus of 60,000 Migrant Workers: Ministry Official. Reuters, [online] 25 March. Available at: <https://www.reuters.com/article/us-health-coronavirus-thailand-exodus/thai-lockdown-sparks-exodus-of-60000-migrant-workers-ministry-official-idUSKBN21C0ZI> [Accessed 26 March 2020].