Stephen Nyein Han Tun
Tea Land Research Centre
shwepalaungzayin@gmail.com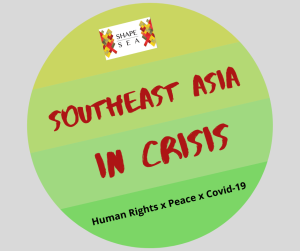 Since early March 2020, many countries, including those in the Southeast Asian region, have been responding to the Covid-19 pandemic through a range of emergency measures, which includes lockdowns, restricted movement and provision of social safety nets for the poor. In Myanmar, the detection of its first case much came later than the rest of the world (The Heartbeat of Nation Myanmar Times, 2020: para. 1). As of this writing, there are already 127 cases, with infections rising by the day.
To ease the impacts of Covid-19, the Government collaborated with different organisations to control the outbreak of the disease. It also promised to provide basic needs to civilians who are at risk of getting infected (The Irrawaddy 2020: para 1). However, such aid has not reached those who need it the most. The limitation of medical equipment and implementation, unequal distribution of food aid and medical assistance, the lack of information regarding health education and armed conflicts has made it more difficult for the people to survive the crisis, especially the Ta'ang indigenous peoples whose livelihood predominantly relies on agribusiness and tea production.
The Ta'ang/Palaung is an indigenous group with a population of about 1.5 million. They mainly reside at the hillside areas of Northeast and Southeast Myanmar (Shan state). At the moment, there has been no clear information about any Covid-19 cases in areas where Ta'ang peoples live.
Since the outbreak started, eighteen (18) human rights cases have been recorded involving Ta'ang peoples. Such cases include forced labour, torturing and unfounded arrests (Ta'ang Women Organisation, 2020). Apart from these, such crisis had made it difficult for them to be informed about the crisis, be compliant with preventive measures, and more importantly, be able to withstand socio-economic impacts of Covid-19.
Lack of Knowledge on Health and Access to Services
Ta'ang peoples have little to no access to information about the COVID 19 pandemic and available public health services. They also do not clearly understand symptoms and ways to prevent the disease. One key reason for this is that many of them do not understand the Burmese, which is the official language of Myanmar. Thus, the Ta'ang people are not able to follow basic rules such as physical distancing, wearing masks, regular hand-washing, and avoiding large gatherings (Ta'ang Women Organisation, 2020). Perhaps, this could be the reason why no cases have been recorded in their area.
There is not enough medicines and equipment, such as masks, testing kids and ventilators for COVID-19 patients throughout the country. Such reality is very much felt in remote areas. Samples have to be sent to Yangon for testing, and it usually takes at least one week to get the results—which for a Covid-19 patient, might be too long a wait (Tea Land Education Foundation, 2020).
Unequal Distribution of State Aid
As previously mentioned, the State announced that it would provide food for the poor. (The Irrawaddy 2020). However, most Ta'ang peoples from remote areas are unable to access this support. The government had declared that those with farmlands are disqualified from accessing such support (Kaung Sein, 2020). This move had excluded many Ta'ang peoples, despite being economically deprived and at high risk of infection.
Even though the State has announced regulations, many local stores still increased prices of essential goods. This has severely affected the tea industry, which many Ta'ang peoples rely on. Tea sales keep decreasing due to low demand from cities and monopolization by a few local brokers. This mean that a significant number tea worker might end up unemployed due to the current situation.
The Need for an Inclusive Covid-19 Governance
Despite confronted by a low number of cases compared to its neighboring countries, the Myanmar government should act swiftly, strategically and humanely in order to stop the Coronavirus from spreading throughout the country. It should focus on disseminating life-saving information in languages understood by indigenous/ethnic groups. It should also ensure equitable distribution of food and access to medical assistance, especially in far-flung areas. Furthermore, the Government is compelled to implement measures for indigenous peoples to be fully healthy, safe, and secure during and after the Covid-19 pandemic.
Reference:
Nyein Han Tun
2019    Ta'ang Tea Farmer and Customary Land Dispossession in the Context of China-Economic Corridor in Northeast Myanmar. MA thesis, Chiang Mai University, Thailand.
Kaung Sein
2020   Interview by the author. Shwe Phee Myay New Agency (20 April 2020).
Ta'ang Women Organisation
2020    Statement on Human Rights Violation in Ta'ang Region.
Ta'ang Women Organisation
2020    Interview by the author. Ta'ang Women Organisation (19 April 2020).
Tea Land Education Foundation
2020   Interview by the author. Tea Land Education Foundation (19 April 2020).
The heartbeat of Nation: Myanmar Times
2020   State Counsellor says Myanmar still free of COVID-19, https://www.mmtimes.com/news/state-counsellor-says-myanmar-still-free-covid-19.html (Accessed 21 April 2020).
The Irrawaddy
2020   Latest COVID-19 Developments in Myanmar: April 6, 2020
https://www.irrawaddy.com/specials/myanmar-covid-19/latest-covid-19-developments-myanmar-april-6-2020.html (Accessed 21 April 2020).
United Nations
2020    Secretary-General Reiterates Appeal for Global Ceasefire, Warns 'Worst Is Yet to Come' as COVID-19 Threatens Conflict Zones. https://www.un.org/press/en/2020/sgsm20032.doc.htm.(Accessed 22 April 2020).
World Health Organisation
2020    WHO Director-General's opening remarks at the media briefing on COVID-19 https://www.who.int/dg/speeches/detail/who-director-general-s-opening-remarks-at-the-media-briefing-on-covid-19—11-march-2020 (Accessed 22 April 2020).