Paolo Iñigo C. Sevilla
BA Anthropology, University of the Philippines, Diliman
The San Roque 21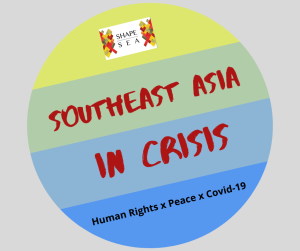 Only a few hours before I wrote this essay, there was a violent dispersal in Sitio San Roque. San Roque is an urban poor community in Quezon City, Metro Manila. As expected, it is one of the sectors most affected by COVID-19. According to the press, a shortage of relief goods triggered the protest.[1] Residents poured into the streets demanding food, and were beaten back by baton-wielding, camouflage garbed policemen. In total, 21 protesters were detained.[2]
Under the "Enhanced Community Quarantine" (ECQ,) vulnerable sectors face hard questions, and as can be seen in the San Roque 21 incident, painful consequences.
"Where will we get our food? What happens if we violate quarantine? How will we survive?"
Amidst such uncertainties, one thing is clear. This protest, and the anger that fueled it, is rooted in hunger and the fear it brings.
Military Manila
Let us take a step back. To understand the present situation of the Philippines during COVID-19, one must take into account the relationship of the State with the Filipino people. As police and military agencies function as extensions of the State, examining how they act is paramount. Military and police operations can be divided into two domains: rural and urban. President Rodrigo R. Duterte's war on drugs is waged by the police in the city. The War on Drugs has taken over 5,000 lives before 2019, including innocents such as the young Kian Delos Santos.[3] Military efforts extend to the countryside through the occupation of Lumad Schools[4] and the killing of peasant leaders.[5] Additionally, there is red-tagging,[6] repression of political opposition[7], and the targeting of progressive and anti-administration groups.[8] This list of abuses under Duterte's administration pre-COVID-19 is far from complete.
Clearly, Duterte's approach to public health issues, and social issues in general, is rooted in a public security and order perspective. As such, his administration addresses them with military solutions. It comes as no surprise that human rights abuses are rampant and public mistrust and fear have become the status quo.
Emerging Issues Under ECQ
As the ECQ continues, the Administration's iron-fist approach prioritizes "discipline" in public order over public health.  Former military generals head the large-scale efforts against the virus, and with the direct involvement of the AFP and the PNP.[9] Military presence was stark from the beginning of the ECQ with 2,500 military personnel and 2,000 police deployed to checkpoints.[10] Reports of human rights violations quickly emerged. In Paranaque, ECQ violators were forced to sit in the midday sun.[11] In another Barangay, violators were placed in dog cages.[12] Several netizens were charged by the National Bureau of Investigation due to online posts critical of the administration.[13]
These are just a few of the many emerging violations.
"Shoot them dead."
Let us return to April first in San Roque. In less than twenty-four hours after the protest at Sitio San Roque, PRRD made a shocking, but unsurprising statement: "Shoot them dead." In any instance of resistance from the citizens, shoot them dead; a clear and cold directive from the Chief Executive and Commander-in-Chief.[14]
Neither his tone nor choice of words is in any way surprising. Over the course of his presidency, Duterte has made a reputation for brash and unfiltered statements. "The mayor should have gone first,[15]" when speaking about the rape of an Australian national. On another occasion,  an order to shoot female members of the New People's Army "in the vagina.[16]" And perhaps most famously, a promise to back all police and military who killed on his orders[17].
The Duterte administration takes tools of brute military force and violence as its primary solutions. It weaves a narrative where the issue is not poverty, but discipline; not social disenfranchisement, but "katigasan ng ulo" (hard-headedness.) This militaristic approach is supported by equally violent and violating speech that emboldens state forces and state-sponsored violence.
COVID-19 has created an environment of uncertainty, economic insecurity, paranoia, and crippling fear. Combined with the militaristic approach of Duterte's administration and his vehement campaign against human rights, this creates a fertile ground for further abuses.
If the national and international actors do not move with haste to disrupt this military-centric framework, human rights violations are bound to multiply. In the face of the current health crisis, Duterte's iron fist can only maintain "order" and suppress the public for so long.
After all, there is very little that hungry men fear.
References:
'Shoot them dead' – Philippine leader says won't tolerate lockdown violators. (2020, April 2). Retrieved from https://www.reuters.com/article/us-health-coronavirus-philippines-dutert-idUSKBN21K0AY
Ellis-Petersen, H. (2018, February 13). Philippines: Rodrigo Duterte orders soldiers to shoot female rebels 'in the vagina'. Retrieved from https://www.theguardian.com/world/2018/feb/13/philippines-rodrigo-duterte-orders-soldiers-to-shoot-female-rebels-in-the-vagina
Fernando, E. (2016, May 17). Sa pag-rape sa Australyana: 'Dapat mayor ang mauna' – Duterte. Retrieved from https://www.philstar.com/pilipino-star-ngayon/bansa/2016/04/17/1573960/sa-pag-rape-sa-australyana-dapat-mayor-ang-mauna-duterte
Galupo, R., Tupas, E., Servallos, N. J., & Villanueva, R. E. (2020, March 24). Parañaque curfew violators tortured? Retrieved from https://www.philstar.com/headlines/2020/03/25/2003270/paraaque-curfew-violators-tortured
Lozada, B. (n.d.). ACT condemns dispersal, arrests of protesting QC urban poor residents. Retrieved from https://newsinfo.inquirer.net/1252284/act-condemns-dispersal-arrests-of-protesting-qc-urban-poor-residents
Manlupig, K. (n.d.). TIMELINE: Attacks on the Lumad of Mindanao. Retrieved from https://www.rappler.com/nation/105847-timeline-attacks-lumad-mindanao
News, A. B. S.-C. B. N. (2016, September 17). Duterte tells troops in drug war: 'I will protect you'. Retrieved from https://news.abs-cbn.com/news/09/17/16/duterte-tells-troops-in-drug-war-i-will-protect-you
Patag, K. J. (2020, April 2). NBI going after social media users who criticize government, too. Retrieved from https://www.philstar.com/headlines/2020/04/02/2005013/diokno-nbi-going-after-social-media-users-who-criticize-government-too
Philippines: Coronavirus Curfew Violators Held in Dog Cages. (2020, March 31). Retrieved from https://www.hrw.org/news/2020/03/26/philippines-curfew-violators-abused
Rappler. (2020). Labor, rights groups condemn 'tokhang-style' raids of activists' offices. Retrieved from https://www.rappler.com/nation/243973-cwa-labor-groups-condemn-raids-bayan-muna-gabriela-bacolod-offices
Rappler. (2020). CHR calls for justice over killing of peasant leader in Northern Samar. Retrieved from https://www.rappler.com/nation/249775-chr-calls-for-justice-peasant-leader-killed-northern-samar
Rappler. (2020). Charges filed vs QC residents who demanded help amid lockdown. Retrieved from https://www.rappler.com/nation/256938-charges-filed-quezon-city-residents-demanded-help-coronavirus-lockdown
Robredo: Quarantine is health concern, not military or police. (2020). Retrieved from https://news.mb.com.ph/2020/03/16/robredo-quarantine-is-health-concern-not-military-or-police/
Roth, K. (2019, January 22). World Report 2019: Rights Trends in Philippines. Retrieved from https://www.hrw.org/world-report/2019/country-chapters/philippines
Santos, E. (n.d.). Officials defend appointment of ex-military men in war vs COVID-19. Retrieved from https://cnnphilippines.com/news/2020/3/27/ex-military-mean-leading-covid-19-fight-philippines.html?fbclid=IwAR1W7RHwiFJju3lEquwgKEAZc05AOSNOEgnze-GNCGvo5lFAle9M783BP6s
Senator de Lima marks first year under detention. (n.d.). Retrieved from https://news.mb.com.ph/2018/02/24/senator-de-lima-marks-first-year-under-detention/
Tomacruz. (n.d.). Duterte gov't tally: 'Drug war' deaths breach 5,000-mark before 2019. Retrieved from https://www.rappler.com/nation/220013-duterte-government-tally-killed-war-on-drugs-november-2018
 ————————————-
[1] https://newsinfo.inquirer.net/1252284/act-condemns-dispersal-arrests-of-protesting-qc-urban-poor-residents 
[2] https://www.rappler.com/nation/256938-charges-filed-quezon-city-residents-demanded-help-coronavirus-lockdown 
[3] https://www.rappler.com/nation/220013-duterte-government-tally-killed-war-on-drugs-november-2018 
[4] https://www.rappler.com/nation/105847-timeline-attacks-lumad-mindanao 
[5] https://www.rappler.com/nation/249775-chr-calls-for-justice-peasant-leader-killed-northern-samar 
[6] https://www.hrw.org/world-report/2019/country-chapters/philippines 
[7] https://news.mb.com.ph/2018/02/24/senator-de-lima-marks-first-year-under-detention/ 
[8] https://www.rappler.com/nation/243973-cwa-labor-groups-condemn-raids-bayan-muna-gabriela-bacolod-offices |
[9] https://cnnphilippines.com/news/2020/3/27/ex-military-mean-leading-covid-19-fight-philippines.html?fbclid=IwAR1W7RHwiFJju3lEquwgKEAZc05AOSNOEgnze-GNCGvo5lFAle9M783BP6s 
[10] https://news.mb.com.ph/2020/03/16/robredo-quarantine-is-health-concern-not-military-or-police/ 
[11] https://www.philstar.com/headlines/2020/03/25/2003270/paraaque-curfew-violators-tortured 
[12] https://www.hrw.org/news/2020/03/26/philippines-curfew-violators-abused 
[13] https://www.philstar.com/headlines/2020/04/02/2005013/diokno-nbi-going-after-social-media-users-who-criticize-government-too 
[14] https://www.reuters.com/article/us-health-coronavirus-philippines-dutert-idUSKBN21K0AY 
[15] https://www.philstar.com/pilipino-star-ngayon/bansa/2016/04/17/1573960/sa-pag-rape-sa-australyana-dapat-mayor-ang-mauna-duterte 
[16] https://www.theguardian.com/world/2018/feb/13/philippines-rodrigo-duterte-orders-soldiers-to-shoot-female-rebels-in-the-vagina 
[17] https://news.abs-cbn.com/news/09/17/16/duterte-tells-troops-in-drug-war-i-will-protect-you