Bea Pielago
Research and Acquisitions Associate (Asia Society for Social Improvement and Sustainable Transformation)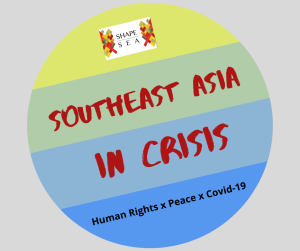 The Philippines is infamous for having the highest number of prison inmates in the world, coupled with extremely small and cramped prison spaces. Following the first few months of President Duterte's campaign on the War on Drugs in 2016, the already high number of prisoners increased to nine times more than the prisons' maximum capacity (Al Jazeera, 2016). In 2018, a total number of 136,314 inmates were detained by the Bureau of Jail Management and Penology (BJMP) in jails with an ideal capacity of only 25,268 inmates (ABS-CBN, 2020). The "social distancing" promoted by health organizations around the world remains impossible for Filipino inmates who are already struggling to even find a space to sleep on the overcrowded cell floors. This leaves the inmates particularly vulnerable to the COVID-19 virus, with the media referring to Philippine prisons as "ticking timebombs".
Families of the prisoners and non-governmental organizations have called out for the temporary release of sick and older prisoners on humanitarian grounds, but have found no success (Human Rights Watch, 2020). Instead, the government responded with President Duterte's first report to the Congress that 47 million pesos were allotted to protect prisoners of the country from getting infected with the virus (GMA, 2020).
However, the Philippine government continues to detain numerous people both for violating quarantine measures and spreading false news on the internet. Two weeks ago, more than 20,000 had been arrested for quarantine and curfew violations (ABS-CBN 2020). Although the detainees are scheduled to be released after the enhanced community quarantine space, this doesn't change the fact that they contribute to further overcrowding in cells as they are not separated from actual inmates. Lawyer Kristina Conti stated that the people detained were not even tested for coronavirus. Instead, their body temperatures were just scanned through thermal scanners. Department of Interior and Local Government (DILG) Secretary Eduardo Año's confident claims that BJMP jails are 100% safe from the COVID-19 virus, even if they were true, may be undermined by continued detainment of many new citizens. To claim that all jails are 100% safe under already dire conditions is a faulty and dangerous overstatement.
The deadline for debating whether we are prepared for the pandemic passed a while ago. Answers from these debates should serve as lessons and policy references to improve the Philippines' healthcare system and responses to future emergencies. In addition, the unacceptably high number of overall inmates in small prison cells should lead to a call for transformative prison measures and alternatives to imprisonment. Meanwhile, among the core issues we should be focusing on are actions to respond rapidly and effectively before the Philippines' "ticking timebombs" indeed explode.
References:
Magsino, Dono. "P47M Used for COVID-19 Prevention in Philippine Jails, Says Duterte." GMA News Online, GMA News Online, 31 Mar. 2020.
Maretti, Alberto. "Prisons and Rehab Overcrowding in the Philippines." Al Jazeera, 14 Dec. 2016
"Philippines: Reduce Crowded Jails to Stop COVID-19." Human Rights Watch, 7 Apr. 2020
See, Aie Balagtas. "Why Philippine Jails Could Be a Ticking Time Bomb during Coronavirus Crisis." ABS, 11 Apr. 2020