-Joana M. Cassinerio[1]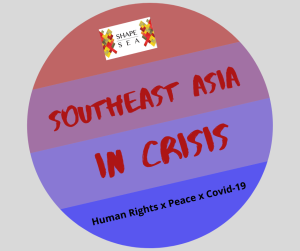 The universality of the effects of Covid-19 on many populations, industries, sectors as well as human rights have become apparent in the past months. While the epicentre of the pandemic has shifted from China to the West, Thailand has not been spared. As of early May, the country reported 2,969 Covid-19 cases, which caused the loss of 54 lives, comparable to the number of casualties in Lithuania and Estonia (Google News, 2020).
In order to prevent the country's economic performances from going into free fall, but also mindful of potential unrest in a country that is historically prone to coup d'états, the Thai government announced in March that it would be handing out THB15,000 (approximately US$460) over the course of three months to eligible individuals, including informal workers, self-employed persons, and others hardest hit by the pandemic (Theparat, 2020). In succeeding weeks, the Thai government had put its population on a rollercoaster of misinformation, first announcing that funds were not enough to provide aid to all eligible citizens (Bangprapa, 2020; Burton, 2020), followed by public outcry and the government's reassurance that there was, indeed, enough money available (Thai PBS World, 2020). By the end of April and throughout the confusion, governmental health hotlines were overwhelmed, and there was a significant amount of reports on suicides directly linked to Covid-19 (Coconuts Bangkok, 2020).
Some of those considered most vulnerable to Covid-19 are public transport workers, such as bus, taxi, and motorbike taxi drivers. Besides their health being under constant threat, their incomes have largely been compromised due to lack of supply of clients. One case in point is Mahidol University. When the university's main campus in Salaya, Nakhon Pathom, suspended its lectures in March, local motorbike taxi drivers found themselves in a life-changing situation: With people being absent from university, there was no longer a sustainable income. A motorbike taxi driver called Laen based in Salaya explained his daily April net profit never exceeded THB50 (US$1.54) for half a day of work. In a non-pandemic world, he would have earned at least five times as much.
While the work of a motorbike taxi driver might not be considered ideal by many young Thais, Laen loves his job for a specific reason: ''Being a motorbike taxi driver means to have freedom. My job is difficult, because I have to work outdoors when it's hot. But at least I have the freedom to work.'' Despite the fact that he is an eligible candidate for the government's aid, Laen has not received one baht so far. Therefore, as much as anyone else in the Global South, the solution is to resort to other types of labour when the state fails to provide accurate protection, and financially relying on family, friends and neighbours is no option. In Laen's case, he is earning extra money on the side from raising and selling chicken. However, he says that neither this income is sufficient ever since the government suspended chicken fights due to Covid-19.
This dilemma shows an essential issue around Covid-19 and labourers in Thailand: While a lot of conversations revolve around the loss of jobs in general, not many people talk about how this pandemic is pushing workers into secondary labour that is equally unsustainable. When workers find themselves in a position where no labour provides for a living, it sheds a light on the desperation of many who eventually resort to committing suicide. This, however, shall not be the final conclusion to an argument, but rather a reminder of the state's undeniable failure to protect, respect and promote human rights, including the right to work and the right to life.
The example of Laen is just one of millions of Thais who are facing situations to which there seem to be hardly any long-term, sustainable solutions. While some were pushed to end their lives, others are still hopeful. Laen's dreams have not yet perished: ''What I still dream about is that one day I will have enough money to open my own restaurant.'' But for this to happen, Prime Minister Prayut Chan-o-cha's government needs to step up its game and reassure the physical, social and financial wellbeing of its citizens – among many other things.

Bibliography:
Bangprapa, Mongkol (2020). 'Relief cash only covers a month: Govt awaits law to expand aid, PM says''. Bangkok Post, 16 April. Available at: <https://www.bangkokpost.com/thailand/general/1900595/relief-cash-only-covers-a-month> [Accessed 3 May 2020].
Burton, Jack (2020). 'Government only has enough to pay 5,000 baht aid package for 1 month – PM'. The Thaiger, 16 April. Available at: <https://thethaiger.com/coronavirus/cv19-asia/cv19-thailand/government-only-has-enough-to-pay-5000-baht-aid-package-for-1-month-pm> [Accessed 3 May 2020].
Coconuts Bangkok (2020). 'At breaking point, Thailand's poor are killing themselves'. Coconuts Bangkok, 23 April. Available at: <https://coconuts.co/bangkok/news/at-breaking-point-thailands-poor-are-killing-themselves/> [Accessed 3 May 2020].
Google News (2020). 'Coronavirus (COVID-19)'. Google News, 4 May. Available at: <https://news.google.com/covid19/map?hl=en-US&gl=US&ceid=US:en> [Accessed 4 May 2020].
Thai PBS World (2020). 'PM apologizes for miscommunication about 5,000 baht subsidies'. Thai PBS World, 16 April 2020. Available at: <https://www.thaipbsworld.com/pm-apologizes-for-miscommunication-about-5000-baht-subsidies> [Accessed 3 May 2020].
Theparat, Chatrudee (2020). 'Cash handouts for informal workers'. Bangkok Post, 25 March. Available at: <https://www.bangkokpost.com/thailand/general/1885640/cash-handouts-for-informal-workers> [Accessed 3 May 2020].
——————————————-
[1] Joana is currently a PhD Candidate at the Institute of Human Rights & Peace Studies, Mahidol University, Thailand. Focusing on the Cambodian garment sector, her dissertation assesses interpretations around the concept of 'rights' through the lens of existing laws, garment workers and employers, and the resulting challenges to fully realising labour rights in the country. Joana has made extensive work and living experiences in Cambodia and Thailand, and she has researched and written about a variety of human rights issues in ASEAN and beyond. You can reach Joana via email (itsjoanamaria@gmail.com) and LinkedIn (https://www.linkedin.com/in/joanamaria/).