Cornelius Hanung
Hanung is a human rights defender from Indonesia and currently working with the Asian Forum for Human Rights and Development (FORUM-ASIA). Views are strictly his own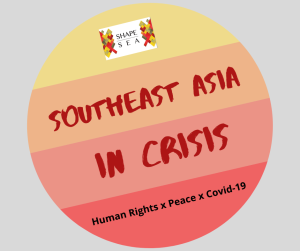 The term "Novel Corona Virus" has haunted Southeast Asian peoples from all walks of life since the beginning of 2020. Up until now, it has infected more than 7000 people and caused 230 deaths across the Southeast Asia region as documented by and the number keeps ongoing (Dezan Shira & Associates, 2020). With no coordinated response from the Association of Southeast Asian Nations (ASEAN) to curb the proliferation of the infection, ASEAN member states have implemented their own emergency measures, varied from social and physical distancing, restriction of movement, and partial or total lockdown.
At first glance, this measure might be beneficial for the majority of the ASEAN people. However, this might exacerbate pre-existing vulnerabilities of marginalised communities, particularly people with diverse sexual orientation, gender identity and expression, and sex characteristics (SOGIESC), whose needs have already been often neglected by the States even under ordinary circumstances.
Prior to the novel corona virus of 2019 (COVID-19), people with diverse SOGIESC, popularised by the media as Lesbian, Gay, Bisexual, Transgender, Intersex, and Queer (LGBTIQ), have already been facing discrimination and violence stemming from conservative patriarchal, religious, as well as hetero- and cis-normative values imposed by society in the region. These values, along with growing extreme fundamentalism and populism within the ASEAN member states, are translated into repressive laws and practices that excluding many of LGBTIQ community from having equal opportunity to get their basic needs such as education and employment (ASEAN SOGIE Caucus, 2017).
Throughout many industries in ASEAN, many LGBTIQ individuals have to rely on jobs in the informal sector and gig economy; a type of job that usually comes on a short-term temporary basis with daily or weekly wages. When many public and private entities announced the work-from-home policy to prevent viral infections,  these workers have been severely impacted the most. Individuals, particularly those whose lives depend on daily wages, have suddenly lost the ability to sustain their lives. A rapid assessment made by an LGBTIQ coalition in Indonesia revealed that about 640 transwomen, especially those working in the beauty, arts, sex workers and other services industries, had to succumb to a life without earning, and a lived experience of hunger and desperation to fend for their daily needs.
In terms of personal safety and security, there is a high potential of domestic violence (physical and mental) that may occur against individuals living in unaccepting and abusive households during the self-quarantine / lockdown period. LGBTIQ individuals affected by Covid-19 have been scrambling to pay their rent and are left with no other choice but to move back with their parents or other family members, who, as in many cases in Asia can, be very unsupportive and LGBTIQ-phobic. There is a definite power imbalance in this situation, adding to the pre-existing conservative views and bias on their SOGIESC. Many accounts have reported that rejection, discrimination and violence experienced by LGBTIQ individuals are very often coming from their closed and extended family members. (Nguyen, T. Q, 2015; Poore, 20016; O' Connell, 2015; Kirnandita, 2019).
The same risks may also be true to those living with their partners. A study conducted by the UN Women during 2019 – 2020 has revealed an alarming fact on the increase of prevalence of domestic violence conducted by intimate sexual or non-sexual partner against women, including LBQ women. Amidst the COVID-19 situation, being quarantined or lock-downed together with their abuser may turn into a nightmare for a vulnerable partner.
Another challenge involves LGBTIQ persons living with HIV/AIDS. Pathologically, people living with HIV/AIDS have already compromised immune system, which make them more vulnerable to COVID-19 infections. However, with the high prevalence of stigma and discrimination even from the healthcare providers, due to lack of sensitivity and understanding on the issues, many people are reluctant to seek medical care except in situations that feel urgent. A recent rapid assessment conducted by the author in Indonesia revealed a disturbing reality in which people were asked about their HIV status in a non-private and non-confidential setting during the COVID-19 assessment in emergency facilities ran by local hospitals. This caused great inconvenience especially for those who are living with HIV/AIDS. Consulting their health problem then can be more problematic since it will possibly impose a degrading label on these vulnerable persons: infected with HIV and COVID-19.
The struggle to combat and end the proliferation of COVID-19 pandemic has become universal. But the aforementioned examples have illustrated how the measures that have been taken so far by ASEAN member states are creating specific and dangerous challenges for marginalised and vulnerable communities. To address this devastating reality, ASEAN member states must adopt an inclusive perspective on gender and sexuality, especially in times of emergencies and humanitarian calamities, such as Covid-19. Without proper intervention from the States and ASEAN, existing measures, that already curtail rights and freedoms, might create even more harm to the life of the LGBTIQ community, adding to the pre-existing difficulties due to growing extreme fundamentalism and populism, severe stigma and discrimination, risk of criminalisation, without protection. There might not be a one-solution-fits-for-all measure, but States and ASEAN must uphold the human rights and dignity of all people regardless of any basis.
References:
Dezan Shira & Associates, 2020. The Coronavirus in Asia and ASEAN – Live Updates by Country. ASEAN Briefing, [online] 29 March. Available at: https://www.aseanbriefing.com/news/coronavirus-asia-asean-live-updates-by-country/ [Accessed on 29 March 2020]
ASEAN SOGIE Caucus, 2017. Rainbow in Context: The Rainbow in Context. An Overview of the Situation of Lesbian, Gay, Bisexual,. Transgender, Intersex, and Queer (LGBTIQ) Persons in Southeast Asia, [Online]. Available at: https://aseansogiecaucus.org/images/2017/ASC_Rainbow_in_Context_LGBTIQ_Persons_in_SEA.pdf [Accessed on 29 March 2020]
O' Connell, T. 2015. Cambodians' Attitudes Toward LGBT Surveyed. The Cambodian Daily, [online] 15 December. Available at: https://english.cambodiadaily.com/news/cambodians-attitudes-toward-lgbt-surveyed-103027/ [Accessed on 1 April 2020]
Nguyen, T, Q. et al. 2015. Negative Family Treatment of Sexual Minority Women and Transmen in Vietnam: Latent Classes and Their Predictors, [online]. Available at https://www.researchgate.net/publication/267750734_Negative_Family_Treatment_of_Sexual_Minority_Women_and_Transmen_in_Vietnam_Latent_Classes_and_Their_Predictors [Accessed on 1 April 2020]
Kirnandita, Patresia. 2015. Coming Out Itu Tak Mudah: Ketika Anak LGBT Terbuka kepada Keluarga. Tirto.id, [online] 13 March. Available at: https://tirto.id/coming-out-itu-tak-mudah-ketika-anak-lgbt-terbuka-kepada-keluarga-djhl [Accessed on 1 April 2020]
Poore, G. 2016. Hitting Close to Home: Homophobia and Transphobia in Asia = Family Violence, The Huffpost [Online]. Available at https://www.huffpost.com/entry/hitting-close-to-home-sta_b_5296412 [Accessed on 30 March 2020]
UN Women, 2019. Progress of the World's Women 2019 – 2020: Families in a changing World, [online]. Available at https://www.unwomen.org/-/media/headquarters/attachments/sections/library/publications/2019/progress-of-the-worlds-women-2019-2020-en.pdf?la=en&vs=3512 [ Accessed on 2 April 2020]