Gianna Francesca M. Catolico
Gianna completed her Master's degree in Human Rights and Democratization at Mahidol University and is the incumbent treasurer of the Asia-Pacific Master's Program Alumni Association. She currently works for Initiatives for Dialogue and Empowerment through Alternative Legal Services (IDEALS Inc.), a Manila-based NGO.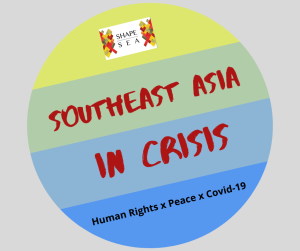 Try envisioning yourself as a front liner—perhaps a security guard, a grocery cashier, a health worker, a garbage collector, or a police officer at the time of the COVID-19 pandemic in the Philippines. Exhausted after a ten-hour shift with no hazard pay, trekking for several kilometers from the drop-off point of your shuttle bus, and yet you are evicted from your boarding house of fears that you contacted COVID-19.
You tune in to the news or skim through your Facebook newsfeed and see tales of neglect and discrimination against your fellow health workers and those who succumbed to the virus. Discriminatory acts, such as impetuous expulsion from their rented flats or dormitories, cyberbullying, doxing, barring from establishments, denying entry to their barangay (village) or homes, refusal from receiving relief goods, and even sneering from villagers and authorities, has been the prevalent and 'infectious' disease burdening patients, front liners, and distressed migrants from infected countries.
Freedom from discrimination, as stipulated in the Universal Declaration of Human Rights and echoed in the 1987 Constitution, states that all individuals are entitled to human rights "regardless of gender, race, ethnicity, sexual orientation, political beliefs, and any other status." Anti-discriminatory provisions of statutory laws, including Article 9 of the Magna Carta for Public Health Workers[1], are in effect and not suspended even if the country enshrouds in a state of emergency.
Cases of discrimination are piling up. A young utility worker at a hospital was ganged up by five men and doused with bleach in Sultan Kudarat province (Dayupay, 2020). He suffered eye trauma and is at risk of permanent blindness. A few days later, a 51-year-old ambulance driver in Quezon province was injured after one civilian fired his gun and accused him of transporting patients positive of COVID-19 (Bajo, 2020). During that time, he was simply ferrying health workers to work. As a result, the driver, also a breadwinner, suffers from hand disarticulation (ABS-CBN News, 2020). Back in Manila, a supermarket security guard lost both her rented apartment and her job after a thermal scan showed her temperature was more than 36 degrees Celsius (Ornedo, 2020). She went to a hospital and later found out that the thermal scanner displayed inaccurate information. Before she defended herself, her employer and homeowner sacked her without any due compensation.
Some COVID-19 patients and their kin are prone to violence caused by social stigma. In Iloilo City, neighbors cast stones at a house of a family whose patriarch died due to the virus. (Yap, 2020). The four infected family members are embroiled in a hapless 'new reality' of neighbors turning their backs and shunning them.
These horrific incidents exponentially multiply along with confirmed COVID-19 cases. Despite a wave of public support and donations such as food, face masks, Personal Protective Equipment, synchronized songs boosting their morale, and the star-studded "thank yous," health workers and other front liners need social protection and redress during these trying times. Social stigma and discrimination shackling their welfare can go even after the final COVID-19 patient in the country discharges from the hospital.
The Philippine government needs to iron out urgent measures to protect the rights of frontliners and patients. As of this writing, Metro Manila mayors passed a resolution urging local government units to penalize those discriminating front liners, distressed Filipino migrants from COVID-19 affected countries, and patients (MMDA, 2020). On the other hand, the public must show benevolence and observe precautionary measures without infringing on others' freedoms.
Once the country's bout with COVID-19 and stringent quarantine protocols are over, are we still going to value the sacrifices of health workers who strenuously mitigated the spread of the virus, or the minimum wage earners and other front liners who risked their health to serve the more fortunate Filipinos?
References:
Bajo, A.F. (2020, April 3). Nagpaputok ng baril sa ambulance driver sa Quezon, naaresto at kinasuhan na. GMA News.
Dayupay, J. (2020, March 28). Healthcare worker, sinabuyan ng bleach. ABS-CBN News.
MMDA, MMC Approve Resolutions on Social Amelioration Packages (SAP)
Distribution and Discrimination Against COVID-19 Patients, Frontliners (2020, April 7). Metro Manila Development Authority. Retrieved April 8, 2020, from https://mmda.gov.ph/72-news/news-2020/4270-april-7-2020-mmda-mmc-approve-resolutions-on-social-amelioration-packages-sap.html
Ornedo, J.M. (2020, 6 April). Guard kicked out of apartment, loses job to fever amid COVID-19 fears. GMA Network.
Private hospitals' group condemns shooting of COVID-19 frontliner in Quezon. (2020, April 3). ABS-CBN News. Retrieved April 8, 2020, from https://news.abs-cbn.com/news/04/03/20/private-hospitals-group-condemns-shooting-of-covid-19-frontliner-in-quezon
UN General Assembly (10 December 1948). Universal Declaration of Human Rights.
Yap, T. (2020, 5 April) Stoning of residence of family being ravaged by COVID-19 condemned. Manila Bulletin.
_________________________________
[1] Section 9 of the law states that, "A public worker shall not be discriminated against with regard to gender, civil status, civil status, creed, religious or political beliefs and ethnic groupings in the exercise of his/her profession."