Duoi Ampilan
Duoi Ampilan is a humanitarian aid worker. He was a member of the Global Humanitarian Team of Oxfam and was deployed to various emergency responses in Asia and Africa, including the Ebola Outbreak in West Africa as a frontline responder and public health promoter. Send your feedback and queries to AAmpilan@gmail.com. Read more from Duoi Ampilan: "Stay healthy and, above all, keep calm" (05 March 2020) at https://bit.ly/3aZgCRC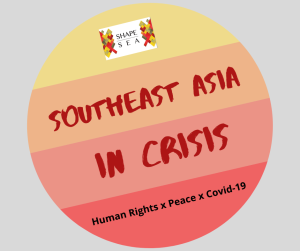 The COVID-19 pandemic evoked a synergy of resources, competencies, and capacities among different response actors, from civil society organizations, United Nations agencies, the private sector, to governments. As we have seen in the Philippines and elsewhere, there can be no monopoly of expertise in dealing with this highly infectious disease because collaborative actions are needed at all fronts. This is precisely why communities are integral in the humanitarian response cycle (Niederberger, et al,, 2019).
As stated in the Core Humanitarian Standard on Quality and Accountability (CHS), which sets out nine commitments to measure and improve the quality and effectiveness of assistance provided by humanitarian and development actors: community involvement at all stages of decision-making is an essential right for people affected by emergencies (CHS Alliance, et al, 2018). While the CHS may presently be a voluntary code for humanitarian actors, these commitments nevertheless affirm that people affected by crisis should be at the front and center of all actions that involve them; and that, their human rights must be respected.
Without meaningful, active, and genuine community engagement and participation, COVID-19 will continue to travel beyond barricades, boundaries, and borders. In this regard, preparedness is critical and local government units will have a huge role to play in preventing health facilities, which should be the last line of defense, from being overwhelmed. In the Philippines, several private hospitals in the National Capital Region have stopped accepting COVID-19 patients as numbers continue to rise. Other locations are now being considered as surge capacity health facilities and quarantine areas, such as stadiums, sports complexes, and convention centers. We cannot afford to send home those showing signs and symptoms of the disease or there is a risk of spreading in areas where there is a breakdown of preventive protocols. A contingency plan must be set in place, and even these need further back-up plans, in the event COVID-19 cases continue to increase within the next four to 12 months. Most importantly, communities need to be actively part of these plans; otherwise, interventions will not be sustained.
Mobilized communities will be better equipped to actively participate in containing, controlling, preventing, and managing COVID-19. A gender lens throughout all phases of response operations ensures underserved, marginalized, and at-risk individuals are reached (Dinglasan & Miranda, 2019). In this regard, the Barangay Health Emergency Response Team (BHERT) and other community-level mechanisms and structures can be leveraged to better reach families and individuals. The barangay is the smallest political and administrative unit for government action; and each municipality or city is composed of several barangays.  With proper resources, support, and guidance from national and local governments, BHERTs can do much more than relief distribution and supervising checkpoints or quarantine areas. Community members can be recruited to augment BHERTs, and be trained in active case finding, case referrals, and health promotion activities. After all, community members are best equipped to understand shared norms and values around risks and coping mechanisms of other community members during a crisis.
References
Niederberger E, Knight L, O'Reilly M. An Introduction to Community Engagement in WASH. January 2019. https://policy-practice.oxfam.org.uk/publications/an-introduction-to-community-engagement-in-wash-620611. Accessed April 7, 2020.
Core Humanitarian Standard on Quality and Accountability. CHS Alliance, Group URD and the Sphere Project; 2018. doi:10.18356/4a4b59ce-en
CNN Philippines Staff. Hospitals close doors to COVID-19 patients after reaching capacity. CNN Philippines. https://cnnphilippines.com/news/2020/3/24/st-lukes-coronavirus-patients.html?fbclid=IwAR0gXkJvLT6woPwp_-3C32uy9c2-vEP8_iSo8RxnJCZbxjI-7spAVxRa6CI. Published March 24. Accessed April 7, 2020.
News A-C. Rizal Memorial to be operational as quarantine facility by Monday. ABS-CBN News. https://news.abs-cbn.com/sports/04/05/20/rizal-memorial-to-be-operational-as-quarantine-facility-by-monday. Accessed April 7, 2020.
Dinglasan A, Miranda P. Safeguarding women's rights during disasters. https://opinion.inquirer.net/120369/safeguarding-womens-rights-during-disasters. Accessed April 7, 2020.