Bryan Thomas D. Santamaria
Juris Doctor (Student), University of the Philippines College of Law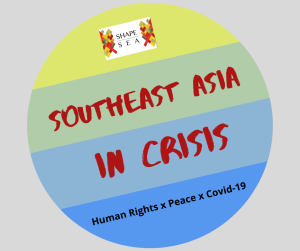 The state of the world as it faces COVID-19 is akin to a state of war. Philippine President Rodrigo Duterte would agree with this comparison. "We are at war against a vicious and invisible enemy," he said in one of his many addresses to the nation (Duterte, 2020a). "In this extraordinary war, we are all soldiers."
Indeed, these are extraordinary times. Our doctors and public health workers risk their lives at the frontlines of infection. We ourselves have become combatants against the hunger, fear. isolation, and uncertainty that this pandemic brings. The Philippines is no stranger to this war; it has claimed the lives of 297 Filipinos thus far (CNN Philippines, 2020b). As this conflict brings with it the seemingly imminent threat of an economic recession (Noble and Laforga, 2020) and the extension of the enhanced community quarantine (ECQ) (CNN Philippines, 2020a), it may very well claim among its casualties the Filipino people's senses of stability and normalcy. A world at war serves as an accurate metaphor for the realities that we face today.
Disturbingly, President Duterte has taken this metaphor literally. In his speech, the President urged the people to obey without question the orders of the police and military. In the same breath, he told them not to be afraid. He implored the people to love these battle-hardened men and women (Duterte, 2020a). In another speech, he praised the "military-trained mind[s]" of the retired generals that he had appointed to lead the government efforts against COVID-19 (Duterte, 2020c).
These speeches send a dangerous message. It is a message that says power is in the gun. It is a message that tells us to trust the military and police, even if they have orders from the Commander-in-Chief himself to shoot dead those who would transgress the policies of the ECQ (Duterte, 2020b). It is a message that disconcertingly invokes the specter of Ferdinand Marcos's Martial Law.
Perhaps this specter is more substantial than we think – there have been numerous reports of human rights violations in the wake of the President's message. In one instance, ECQ violators were ordered to sit under the sweltering sun (Galupo et al., 2020) There are allegations of women being harassed at checkpoints set up by the military and police (Malasig, 2020). One city has even passed an ordinance that would penalize repeat violators of the curfew by depriving them of relief goods and government assistance (CNN Philippines, 2020c). These atrocities will likely persist with the extension of the ECQ.
President Duterte's supporters argue that such abuses of power and violations of human rights are necessary consequences of public order. They argue that the President's message is nothing more than a harmless threat, one made to instill discipline in the masses. These arguments seem to be supported by the police's assurance that they will not outright shoot quarantine violators (Tupas, 2020). These arguments lead to a conclusion that Presidential Spokesperson Salvador Panelo is fond of reiterating, that the President is only joking (Ranada, 2018).
These arguments are devoid of both reason and logic. President Duterte's message runs contrary to the highest law of the land. The 1987 Constitution of the Republic of the Philippines clearly provides that sovereignty resides in the Filipino people, from whom all government authority emanates (Article II, Section 1). This authority does not grant the State a license to humiliate, threaten, or torture the sovereign people. The Constitution also establishes the military's role as protectors of the people, not as perpetrators of human rights violations (Article II, Section 3). To deviate from this role would be to blatantly disregard the law.
The Philippine government must keep in mind the provisions of both the Constitution – which lays down its structure and powers – and the Universal Declaration of Human Rights – to which it is a signatory. These laws safeguard our human rights, those inalienable principles that provide all of us an inherent dignity. These rights afford us the security of not just our physical needs, but our humanity as well. As recent events have shown, the President's message – that machine guns should be aimed at society's ills – threatens the very security that our human rights guarantee.
The Constitution imparts upon the State its prime duty: to serve and protect the Filipino people (Article II, Section 4). In its fight against COVID-19, the Philippine government must reassess its priorities. It must serve, not threaten, the very people that gives it authority.
References:
CNN Philippines. (2020a, April 7). Luzon-wide lockdown extended until April 30 to stop COVID-19 spread. CNN Philippines. https://www.cnnphilippines.com/news /2020/4/7/Luzon-lockdown-enhanced-community-quarantine-extension.html.
CNN Philippines. (2020b, April 12). Mass burial not needed amid rising COVID-19 deaths, DOH says. CNN Philippines. https://www.cnnphilippines.com/news/2020/4/12/No-need-for-mass-burial-COVID-19-Philippines-DOH.html.
CNN Philippines. (2020c, March 21). Muntinlupa placed under 24-hour curfew. CNN Philippines. https:/www./cnnphilippines.com/news/2020/3/21/muntinlupa-under-24-hourcurfew.html? fbclid=IwAR1SrUfsWcf72P3eD0do2aV7et-01BrucXjlAuPoa5VYDC8iWh0JwYi5hYo %3F%3F%3F%3F%3F.
Duterte, R. (2020a, March 16). Guidance of President Rodrigo Roa Duterte on the Cornavirus Disease 2019 (COVID-19) [Video file]. Retrieved from https://www.youtube.com/watch? v=xOnIigisZNM& feature=emb_err_watch_on_yt.
Duterte, R. (2020b, April 1). Nation Address of President Rodrigo Roa Duterte on Cornavirus Disease 2019 (COVID-19) [Video file]. Retrieved from https://pcoo.gov.ph/presidential-speech/nation-address-of-president-roa-duterte-on-coronavirus-disease-2019-covid-19-pandemic/.
Duterte, R. (2020c, April 6). Talk to the Nation of President Rodrigo Roa Duterte on Cornavirus Disease 2019 (COVID-19) [Video file]. Retrieved from https://youtu.be/0Y7 GfPMBhXU.
Galupo, R, et al. (2020, March 25). Parañaque curfew violators tortured? The Philippine Star. https://www.philstar.com/headlines/2020/03/25/2003270/paraaque-curfew-violators-tortured.
Noble, L., Laforga, B. (2020, March 30). PHL may go into recession – Diokno. Business World Online. https://www.bworldonline.com/phl-may-go-into-recession-diokno/.
Ranada, P. (2018, December 4). If Duterte remark is 'illogical', he's joking – Panelo. Rappler. https://www.rappler .com/nation/218169-panelo-says-if-duterte-remark-illogical-joking.
Tupas, E. (2020, April 3). PNP: We won't shoot them dead. The Philippine Star. https://www.philstar.com /headlines/2020/04/03/2005146/pnp-we-wont-shoot-them-dead.