Truston Yu
Research Assistant, Department of Politics and Public Administration, the University of Hong Kong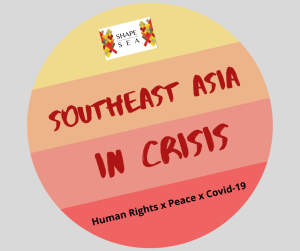 Southeast Asia's response to the COVID-19 pandemic is disappointing at best and ridiculous at worst: Indonesian Health Minister Terawan Agus Putranto credited prayers for Indonesia's initial "immunity" to COVID-19 (The Jakarta Post, 2020); In Malaysia the Women and Family Ministry told housewives to speak to their husbands in Doraemon's voice (CNA,2020). This pandemic exposes the weaknesses of Southeast Asian governments and underlying tensions in societies. The course of Southeast Asia's development will be altered permanently.
"Coronaracism" and the Clash of Civilizations
Needless to say, the phenomenon of Coronaracism shows that the pandemic has exacerbated racism against Chinese-looking people. One might assume that only the Mandarin-speaking populations of Singapore (BBC, 2020) and Taiwan would be at risk, yet the assault of a Thai consultant in Britain (Bangkok Post, 2020) shows that the phenomenon of Coronaracism affects not only ethnic Chinese but also East Asians in general.
While Asians are negatively associated with the origins of the outbreak, the ill-suited responses (BBC, 2020) of the West are far from impressive. Brexit and Trump's election signifies the rise of conservatism across the globe; and in Asia "universal" values are being rejected and dismissed as "Western". This is a vindication of the Clash of Civilizations thesis, famously proposed by American political scientist Samuel P. Huntington in his 1993 article. He stated that the next world war, if there will be one, will be a war fought based on cultural differences instead of ideology. There is already an ongoing discourse on a new Cold War (Oxford Union, 2020), this pandemic further highlights the differences between peoples.
Perhaps an even more worrying trend is that the fault line that divides people does not only run along Southeast Asia, but cuts within the region as well. In Indonesia, long-running sentiments against the ethnic Chinese are being exploited. A Jakarta-based think tank warned that "Islamic State affiliates are using the coronavirus to stoke existing anti-Chinese sentiments" within the country (SCMP, 2020).
Domestic Tensions
The pandemic is a litmus test for the public health system and crisis management capabilities of Southeast Asian governments. It has also revealed weaknesses or structural problems in certain societies.
Decentralized or federal political systems like Indonesia and Malaysia are put to test. In late March, there appears to be a disagreement between the President and the Governors of Jakarta and West Java province on public health measures, which the Jakarta Post called a "turf war" (The Jakarta Post, 2020). In Malaysia, travels between Malaya and the eastern regions of Sabah and Sarawak were restricted, though measures were introduced (The Star, 2020) to allow people to return to their home states. Most notably, the Pakatan Harapan coalition government collapsed during the pandemic, complicating the situation.
On the other hand, it is alarming to see certain heads of government using draconian measures and even exploiting this pandemic to suppress dissidents. Cambodian Prime Minister Hun Sen initially downplayed the risk of the outbreak and used this to display his loyalty to China, even flying into Beijing himself (Khmer Times, 2020). Human Rights Watch accused him of using the pandemic to expand his powers, calling his Emergency Bill a "Recipe for Dictatorship" (Human Rights Watch, 2020). Just a week later in April, a reporter was jailed for quoting Hun Sen on the outbreak. In response to a Quezon city protest by residents over a food shortage, Philippine President Rodrigue Duterte ordered the military and police to "shoot them dead" (Foreign Policy, 2020).
Even Singapore, which was praised alongside Taiwan for their initial success in containing the virus, had to step up its circuit breaker measures. The large population of migrant workers, which has been the forgotten and most vulnerable segment of society, proved to be the weakness in the country's combat against the pandemic (The Straits Times, 2020). In a month's time, the number of confirmed cases in Singapore skyrocketed from less than a thousand to over 15,000 cases (The Straits Time, 2020). A vast majority of the new cases are from worker dormitories.
Conclusion
This pandemic exacerbates racism against Southeast Asians. While it is important to acknowledge this reality of an increasingly hostile world for people of the Far East, we must not make this world even more divisive than it already is.
This pandemic also exposes flaws within certain Southeast Asian countries, threatening the weakest population and in some cases, the very notion of democracy and human rights as well. It is up to the people and the governments to decide how their society should be reformed in the wake of this crisis. Those which seek to keep business activities in operation through downplaying the severity of the pandemic will likely end up suffering even bigger economic losses.
"Every man for himself" best describes the current state of ASEAN "cooperation". In such divisive times, it is imperative that Southeast Asians remain united as a people, and that our countries remain united as a region.
References:
Marchio Irfan Gorbiano and Rizki Fachriansyah (17 February 2020), 'It's our nation's right to rely on the Almighty': Minister justifies calling for prayers in coronavirus battle, The Jakarta Post. Retrieved from https://www.thejakartapost.com/news/2020/02/17/its-our-nations-right-to-rely-on-the-almighty-minister-justifies-calling-for-prayers-in-coronavirus-battle.html
Low Zoey (31 March 2020), 'Talk like Doraemon': Malaysian ministry issues tips for wives during COVID-19 movement control order, CNA. Retrieved from https://www.channelnewsasia.com/news/asia/coronavirus-malaysia-ministry-tips-wives-nagging-doraemon-mco-12593708
BBC News (6 March 2020), Coronavirus: Teens arrested over 'racially aggravated' attack, BBC. Retrieved from https://www.bbc.com/news/uk-england-london-51771355
Gary Boyle (18 February 2020), 'Racist' London attack on Thai, Bangkok Post. Retrieved from https://www.bangkokpost.com/learning/easy/1860174/racist-london-attack-on-thai
BBC News (4 April 2020), Coronavirus: Trump to defy 'voluntary' advice for Americans to wear masks, BBC. Retrieved from https://www.bbc.com/news/world-us-canada-52161529
Oxford Union, This House Would Start A New Cold War With China, the Oxford Union. Retrieved from https://www.oxford-union.org/node/2061
Amy Chew (7 April 2020), Coronavirus: Indonesia sees uptick of anti-Chinese speech by militants on social media, South China Morning Post. Retrieved from https://www.scmp.com/week-asia/people/article/3078775/coronavirus-indonesia-warned-be-guard-anti-chinese-terrorism-amid
Marchio Irfan Gorbiano and Ghina Ghaliya (1 April 2020), Turf war undermines COVID-19 fight in Indonesia, The Jakarta Post. Retrieved from https://www.thejakartapost.com/news/2020/04/01/turf-war-undermines-covid-19-fight-indonesia-government-jokowi-anies.html
Mazwin Nik Anis (3 April 2020), Travelling Sabahan and Sarawakians can undergo quarantine in their own states, The Star. Retrieved fromhttps://www.thestar.com.my/news/nation/2020/04/03/travelling-sabahan-and-sarawakians-can-undergo-quarantine-in-their-own-states
Taing Vida (5 February 2020), Hun Sen to fly to Beijing this afternoon, Khmer Times. Retrieved from https://www.khmertimeskh.com/50687553/hun-sen-to-fly-to-beijing-this-afternoon/
Human Rights Watch (2 April 2020), Cambodia: Emergency Bill Recipe for Dictatorship, Human Rights Watch. Retrieved from https://www.hrw.org/news/2020/04/02/cambodia-emergency-bill-recipe-dictatorship
Human Rights Watch (10 April 2020), Cambodia: Reporter Jailed for Quoting Hun Sen on COVID-19, Human Rights Watch. Retrieved from https://www.hrw.org/news/2020/04/10/cambodia-reporter-jailed-quoting-hun-sen-covid-19
Lynzy Billing (16 April 2020), Duterte's Response to the Coronavirus: 'Shoot Them Dead', Foreign Policy. Retrieved from https://foreignpolicy.com/2020/04/16/duterte-philippines-coronavirus-response-shoot-them-dead/
Yuen Sin (30 April 2020), Covid-19 outbreak brings migrant workers from margin to centre of Singapore's attention, The Straits Times. Retrieved from https://www.straitstimes.com/opinion/migrant-workers-from-margin-to-centre-of-spores-attention
Jean Lau (29 April 2020), 5 new Covid-19 clusters identified; 660 of 690 new cases in Singapore are workers in dormitories, The Straits Times. Retrieved from https://www.straitstimes.com/singapore/health/690-new-coronavirus-cases-take-singapore-tally-past-15000-mark