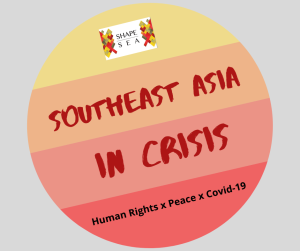 This Novel Corona Virus-19 (Covid-19) crisis has turned into a lived experience for all, not just in Southeast Asia, but throughout the world. As of this writing, in our region alone, infected cases had reached thousands, with deaths rising by the day, in almost all countries. Furthermore, Covid-19 challenges, not only our public health systems, policies and practices, but also ways that governments, civil society, and private sectors respond to political, economic and social downturns. This has also affected peace processes and efforts to address conflicts within and amongst marginalised and vulnerable populations.
We are gravely concerned by the suspension of rights and freedoms brought about by lockdowns and quarantines imposed at the moment. This is on top of dismal progress on mass testing, that may help determine actual information on infections and access to effective treatments. Furthermore, based on recent scientific forecast, cases will continue to rise in the coming weeks/months, which may not only exhaust public health workforces and systems, but may also aggravate inequalities, conflicts and human rights violations.
SHAPE-SEA, in its pursuit to increase knowledge on human rights and peace and to promote academic-activism on various relevant issues in the region, has been inviting researchers, scholars, students to write and share original and evidence-based opinion pieces on the impact of Covid-19 on human rights and/or peace at the local, national, and regional levels in Southeast Asia. Our goal is to provide academic, students, researchers a platform to share their voices, reflections, expertise and/or analyses on various themes and realities related to the crisis.
Submissions should be 300 to 700-words long (excluding title, name/affiliation of author/s, and references) and written in English. You may write them individually or as a group. You may send as many opinion pieces as you want.
Kindly send your opinion pieces (MS Word format) to joel.shapesea@gmail.com.
Our team will be editing/proofreading your work (though, we would gladly welcome any volunteer editors/proofreaders.)
As this is an on-going crisis, submissions, editing, proofreading and uploading will be done on a rolling/regular basis.
| Published | Title | Author(s) |
| --- | --- | --- |
| 04-May-2020 | 'Malaysian Malaysia': The Rise of Xenophobia | Aslam Abd Jalil |
| 08-May-2020 | The Deadly Second Wave of Covid-19: The Paradox of a Cosmopolitan City-State | Sophea Try |
| 04-May-2020 | Impacts of Covid-19 on LGBTIQ Organizations in the Southeast Asian Region | Ryan Silverio |
| 02-May-2020 | Is Everyone On-Board? Achieving Inclusive Communication in Timor-Leste amid COVID-19 | Celso da Fonseca |
| 01-May-2020 | Defending Human Rights in the Time of Covid-19: Collective Action Against State Repression in the Philippines | Sensei M. Adorador |
| 30-Apr-2020 | Prioritising Social Science and Humanities Education: Lessons for a Post-Covid-19 Malaysia | Sharifah Munirah Alatas |
| 29-Apr-2020 | The Curious Case of Subsided Subsidies: Failed Political Promises in the midst of COVID-19 in Timor-Leste | Celso da Fonseca |
| 29-Apr-2020 | Beating Covid-19 through Social Solidarity | Wisnu Adihartono |
| 28-Apr-2020 | Where do We Go from Here? An Unsettling Battle for Filipino Migrants in Cambodia and Vietnam amid Covid-19 | Eunice Barbara C. Novio |
| 28-Apr-2020 | 'Humanizing' Indonesia's COVID-19 Pandemic Response | Ratu Ayu Asih Kusuma Putri and Pamungkas A. Dewanto |
| 27-Apr-2020 | Vietnam amid the COVID-19: "Công Lý (Justice) is the name of a comedian" | Tania Nguyen |
| 27-Apr-2020 | The compounded threat of COVID-19 and armed conflict in Mindanao | Noraida Abo and Abie Ayao |
| 26-Apr-2020 | Dormitory Debate: Have migrant workers in Singapore slipped between the cracks? | Tashryn Mohd Shahrin |
| 25-Apr-2020 | Can We All Now Agree That Access to the Internet is a Human Right? | Shahrul Mizan Ismail |
| 24-Apr-2020 | The Miserable State of Ta'ang Peoples of Myanmar in the time of COVID-19 | Stephen Nyein Han Tun |
| 24-Apr-2020 | Emergency Declaration for COVID-19 in Timor-Leste: Inefficiency, Reasons, and Resolution | Joanico G. Alves |
| 23-Apr-2020 | Is the Light Getting Dimmer for Urban Refugees in Thailand in the Time of Covid-19? | Bhanubhatra Jittiang |
| 23-Apr-2020 | COVID-19 in Cambodia: Leadership or Autocracy? | Marc Pinol |
| 22-Apr-2020 | Bayanihan To Heal As One Act: Weaponisation against Covid-19 or the People? | Jyrus Cimatu |
| 22-Apr-2020 | A Growing Stigma: The Danger of Discriminating Against the Rights of Healthcare Workers | Muhammad Diaz Kurniawan |
| 21-Apr-2020 | Flip Side of the Lockdown in Malaysia: Home May Not be Safe for Women and Girls | Sophea Try |
| 21-Apr-2020 | Reducing the weight on women's shoulders | Mark Vincent Aranas |
| 20-Apr-2020 | Scrutinizing Vietnam's ASEAN Chairpersonship: Cohesive and Responsive in the Year of Living Dangerously | Maya Dania |
| 20-Apr-2020 | At the Brink of National Terror: Repressive State Apparatus in Indonesia's Covid-19 Situation | James Reinaldo Rumpia |
| 19-Apr-2020 | A Contextual Right to Know: Transparency in the time of Covid-19 | George Mitchell Guerero |
| 19-Apr-2020 | Ensuring Food Security for "Invisible Communities" during the Covid-19 pandemic | Ruthra Mary Ramachandran |
| 18-Apr-2020 | The Indonesian Covid-19 Case: Rising Deaths and Human Rights Violations | Ramsey Teo and Sayyid Muhammad Jundullah |
| 18-Apr-2020 | Understanding the Social Dimension of Receiving Aid | Gretchen Abuso |
| 17-Apr-2020 | Realising Rice and Rights: The Role of Civil Society in Realising the Right to Food in Vietnam during the Covid-19 | Tania Nguyen |
| 17-Apr-2020 | Noticing the Unnoticed: Philippine Prisons in the Wake of COVID-19 | Bea Pielago |
| 16-Apr-2020 | A Dangerous Message: Problematic Implications of the Military Responses to COVID-19 in the Philippines | Bryan Thomas Santamaria |
| 16-Apr-2020 | Reflecting Online/Distance Learning in Higher Education under COVID-19: Bitter Lessons from Timor-Leste | Li-Li Chen |
| 15-Apr-2020 | Embracing an Unprecedented "New Normal" for Indonesians Living in the Time of COVID-19 | Reni Juwitasari |
| 15-Apr-2020 | Mental Despair and Thinking Politics in the time of COVID-19 | Fernando Ximenes |
| 14-Apr-2020 | Inequality in Pandemic: How the Government of Indonesia Puts Marginalized Communities into Jeopardy | Dominique Tuapetel |
| 14-Apr-2020 | Assessing Malaysian Government's Concern Towards Citizens' Health and Financial Aid in Light of COVID-19 | Murugan Rajoo |
| 13-Apr-2020 | Community Quarantine Shows that in the Philippines, Basic Income is the Answer to Every Question | Miguel Paolo Reyes |
| 13-Apr-2020 | Information can Save Lives: Assessing public access to ICT in the midst of COVID-19 in Timor-Leste | Therese Nguyen Thi Phuong Tam |
| 12-Apr-2020 | Justice-Oriented Approaches to Pandemic-Related Human Rights Abuses in the Philippines | Ross Tugade |
| 12-Apr-2020 | Ungoverned Emotions and Vulnerability in Indonesia: Rejecting Dead Bodies, Moral Paranoia over COVID-19 | Maya Dania |
| 11-Apr-2020 | Indonesian Social Care Institutions: Potential Death Chambers in the midst of Covid-19 | Fadel Basrianto |
| 11-Apr-2020 | Discrimination and social stigma perturbing frontliners and COVID-19 patients in the Philippines | Gianna Francesca M. Catolico |
| 10-Apr-2020 | Public Health or Public Order? | Paolo Inigo Sevilla |
| 10-Apr-2020 | Top-down Violence in the Face of a Pandemic: An Argument for a Social Protection Floor | Josemaria J. Sebastian |
| 10-Apr-2020 | Cambodia and its New Wave of the Law on the State of Emergency During the Covid-19 | Sophea Try |
| 09-Apr-2020 | Face Covered, Mouth Shut: Unmasking Free Speech During the Philippine COVID-19 Crisis | Philip G. Lizarda |
| 09-Apr-2020 | Communities at the Frontlines of Beating COVID-19 | Duoi Ampilan |
| 09-Apr-2020 | The effects of the COVID-19 pandemic on one's enjoyment of the right to education | Mariam Othman |
| 08-Apr-2020 | Covid-19 pandemic: refugee and state responses in Malaysia | Aslam Abd Jalil |
| 08-Apr-2020 | Justice in the time of Covid-19: Actualizing Pragmatic Solidarity in Global Health Responses | Justin Francis Bionat |
| 08-Apr-2020 | Remembering the Forgotten Frontliners in Timor Leste During Covid-19 and Beyond | Ato Lekinawa Costa |
| 08-Apr-2020 | Securitization of COVID-19 In Timor-Leste: A Gender Perspective | Chen Li-li |
| 07-Apr-2020 | Protecting Rights while Protecting lives: Does Human Rights Give Way to a State of Emergency? | Anton Miguel A. Sison |
| 07-Apr-2020 | How Indonesia Dis/informs the Public about COVID-19 | Primi Suharmadhi Putri |
| 06-Apr-2020 | Singapore's Covid-19 Case Study: Personal Networks as Resources of Last Resort | Ng Xinyao |
| 06-Apr-2020 | COVID 19 and The Crisis in Communication in the Philippines | Angelito P. Bautista Jr. |
| 05-Apr-2020 | Unscientific Approach by Indonesian Government Violates Right to Information | Mahesti Hasanah |
| 05-Apr-2020 | Crisis in the "Mekong Oasis": The Filipino Dilemma in Lao PDR in the Time of Covid-19 | Eunice Barbara C. Novio |
| 04-Apr-2020 | The Portrait of an Indonesian Health Frontliner: Strong Spirit, Vulnerable Body | Sarah Salsabila |
| 03-Apr-2020 | COVID-19 in Myanmar: A Ticking Time Bomb | Su Yin Htun |
| 03-Apr-2020 | How COVID-19 might disproportionately affect the LGBTIQ community in ASEAN | Cornelius Hanung |
| 02-Apr-2020 | COVID-19 Cast its imprints on India from Southeast Asia | Syed Ali Mujtaba |
| 02-Apr-2020 | COVID-19 and the Right to Freedom of Religion and Belief | Eugene Yapp |
| 01-Apr-2020 | Uncertainty of Migrant Workers Behind Emergency Lockdown in Thailand | Sophea Try |
| 31-Mar-2020 | COVID 19 as Global Minsinfodemic: A Test for Southeast Asia Countries | Budi Rahmawan |
| 31-Mar-2020 | Filipino Migrants Facing Uncertain Future in the midst of COVID-19 | Eunice Barbara C. Novio |
| 31-Mar-2020 | Dealing with a Present-Day Pandemic Psycho-social impacts of COVID-19 on the Filipino people | Lorena L. Sabino |
| 29-Mar-2020 | The Daunting Arrival of Covid-19 in Myanmar and A Worrisome Future for A High-Risk Nation | May Thida Aung |
| 29-Mar-2020 | Indonesia, Making Sense of Coronavirus | Yulida Nuraini Santoso |
| 28-Mar-2020 | Covid-19-Induced Discrimination is making Our Pandemic Experience much Worse | Selma Theofany |
| 28-Mar-2020 | From 'very important politicians' to 'very insinuating patients' | Gianna Francesca M. Catolico |
| 27-Mar-2020 | States Obligations to Impose Emergency Measures during the COVID-19 Crisis | Pardis Moslemzadeh Tehrani |
| 26-Mar-2020 | The Migrant Worker Dilemma: Insecurity during Quarantine | Pontip Vidyavrapat |
| 26-Mar-2020 | Indonesia's Lack of COVID-19 Preparedness and its Human Rights Impact | Dominique Tuapetel |
| 26-Mar-2020 | The Impact of COVID-19 on Cambodia's GTF workers | Joana Cassinerio |
| 26-Mar-2020 | Remembering the Undocumented of Sabah in a Panicked Malaysia | Dr. Vila Somiah, Michelle R Usman and Anne Baltazar |
| 01-May-2020 | Hitting Rock Bottom During Covid-19:The Struggles of Young People in the Malaysian Work Force | Ruthra Mary Ramachandran |
| 03-May-2020 | A Paradigm Shift in Learning: Shaping Students for the New Normal | Muhammad Asfani |
| 05-May-2020 | Land of Smiles?: A brief assessment of the effects of Covid-19 on the life of a motorbike taxi driver in Salaya, Nakhon Pathom, Thailand | Joana M. Cassinerio |
| 06-May-2020 | Engendering a Culture of Prevention in a Post-COVID-19 World: Environmental Protection in the ASEAN Region | Tobit P. Abao |
| 09-May-2020 | COVID-19: New Geopolitical Order in the Making | Truston Yu |
| 11-May-2020 | Lack of disaggregated data a glaring gap in Southeast Asia's COVID-19 response | Sam Cartmell |
| 12-May-2020 | COVID-19: Power Dynamics and the Brewing New Normal | Truston Yu |
| 13-May-2020 | An Analysis of Social Assistance in Malaysia During Covid-19 | Rashid Ating |
| 14-May-2020 | Communication: The Key to Effective Control of COVID-19 in Brunei Darussalam | Dayangku Nurafiqah Fikriyah Binti Pengiran Muhammad Rafee |
| 16-May-2020 | Drought in Mekong Delta of Vietnam: A Greater Threat than Covid-19 | Tania Nguyen |
| 17-May-2020 | Suspending The Dream of Greener Pastures: The Effect of Covid-19 on the Indonesian Technical Intern Trainee Program in Japan | Yusy Widarahesty |
| 19-May-2020 | Impacts of Covid-19 on the Quality of Children's Nutrition in Indonesia | Reni Juwitasari |
| 20-May-2020 | Academic Freedom and the Responsibility of the University amidst COVID 19 Pandemic | Rebecca Tan |
| 21-May-2020 | Gagging Dissidents Amid COVID-19: The [Un]Democratic Décor in Failing Democracies | A K M Zakir Hossain |
| 24-May-2020 | Making the Social Movement Personal during the Covid-19 Pandemic | Khriscielle Yalao |
| 26-May-2020 | Prematurely Entering the New Normal in Indonesia: Widening Social, Economic and Political Gaps during COVID-19 and Beyond | Dominique Virgil |
| 27-May-2020 | Long and Winding Misery of the Marginalized: Social Exclusion in the Philippines amid COVID-19 | Kristine Mari T. Miranda |
| 28-May-2020 | Right to Life, Liberty, and Security under Double Woes in Myanmar: Coronavirus and Tatmadaw | Saw Lin Htet |
| 29-May-2020 | Interrogating the Level of Freedom of Expression and Access to Information in Timor-Leste in the Time of Covid-19 | Joanico Alves |
| 01-Jun-2020 | The Unfortunate Case of Sacrificial Lambs: Indonesia's New Normal and its Severe Impact on Healthcare Workers | Arif R. Haryono |
| 02-Jun-2020 | COVID-19 crisis in the Javanese Sultanate: When and How can Yogyakarta fully recover? | Joanda Kevin Yoga Aditama |
| 04-Jun-2020 | Double trouble in South China Sea amid COVID-19 Crisis: an ASEAN consensus and a new regional security architecture needed to thwart future Chinese maritime ambition | Tania Nguyen |
| 09-Jun-2020 | What Indonesia Could Learn from Thailand during the COVID-19 Crisis: An Untold Success Story | Muhammad Maulana Iberahim |
| 16-Jun-2020 | Problematizing the Securitization of Covid-19 in Southeast Asia: A Necessary Step Towards an Inclusive, Rights-Centred Normal | Joel Mark Baysa-Barredo |
| 17-Jun-2020 | Threats to the Constitutional Right to Freedom of Expression in the Time of COVID-19 | Robert Jhon Salazar |
| 22-Jun-2020 | Postponing the Regional elections amid COVID-19: Is Indonesia's democracy in trouble? | Muhammad Ammar Hidayahtulloh |
| 23-Jun-2020 | Distancing in the Workplace: Will the "New Normal" Guidelines Actually Work in Indonesia? | Tareq Muhammad Aziz Elven and Alifa Salsabila |
| 24-Jun-2020 | The Indonesian Tragedy: The Politics of Stigma and Marginalization of COVID-19 | Arif R. Haryono |
| 25-Jun-2020 | Exposing the Seemingly-Benevolent Policy on the Assimilation and Integration Detainee Program for the West Papua Political Activists amidst the Pandemic | Arif R. Haryono |
| 29-Jun-2020 | The Compounded Struggle to Enjoy Customary Land Tenure Rights and Livelihood Security Amid COVID-19 in Shan State, Myanmar | Stephen Nyein Han Tun |
| 30-Jun-2020 | Challenges to Learning and Teaching in Malaysia in the Time of Covid-19 | Rashid Ating |
| 02-Jul-2020 | What Indonesia and India Share in Common: The Failure of Lockdown | Nanda Blestri Jasuma |
| 06-Jul-2020 | Gagging Timor Leste: Threatening Freedom of Expression in the time of Covid-19 | Dulce M. da Silva and Celso da Fonseca |
| 07-Jul-2020 | Dangerously Lost in Translation: Fighting an Infodemic amid Covid-19 in Myanmar | Saw Lin Htet |
| 08-Jul-2020 | The Inevitable Spike: Placing Low-Income Earners at High Risk of Covid-19 in Indonesia | Joanda Kevin Yoga Aditama |
| 13-Jul-2020 | Cul-de-sac: Spare the Economy or Save People's Lives? | Arif R. Haryono |
| 15-Jul-2020 | Women at work deserve better from governments and businesses | Golda Benjamin and Kalayaan Constantino |
| 17-Jul-2020 | U.S Foreign Aid Giving to the Philippines in the time of Pandemic | Manoj Kumar Panigrahi |
| 20-Jul-2020 | Singapore's Covid-19 elections: Yay or Nay | Tashryn Mohd Shahrin |
| 22-Jul-2020 | Locating the Rights of the Rohingya Amid Covid-19 | Saw Lin Htet |
| 24-Jul-2020 | Reflecting on the Situation of Indigenous Women of Dayak Benawan in Indonesia | Nikodemus Niko |
| 27-Jul-2020 | US-China rivalry and Southeast Asia amid Covid-19: will human rights suffer? | Khoo Ying Hooi |
| 31-Jul-2020 | International humanitarian norms and health care obligations of non-state armed groups: Ethnic armed organisations in Myanmar during the Covid-19 pandemic | Stan Jagger |
| 03-Aug-2020 | Assessing the Social and Economic Rights of Cambodian Women Garment Workers amid Covid-19 | Sophorn TUY |
| 05-Aug-2020 | Concealing Data During the Pandemic: A Human Security Threat in Indonesia | Muhammad Faiz Krisnadi |
| 10-Aug-2020 | Problematizing the 'R' in Virus: 'Racism' in the time of Covid-19 | Suthida Chang |
| 20-Aug-2020 | Enough is Enough: Saving Thailand from a Democratic Crisis amid Covid-19 | Punnawit (Sharp) Tantirapan |
| 21-Aug-2020 | A Critical Security Analysis of Indonesia's COVID-19 Responses: Is the State A Security Provider or Threat? | Rafyoga Jehan Pratama Irsadanar |
| 24-Aug-2020 | Connecting the dots: How Bangko Sentral's new sustainable finance framework can benefit farmers and businesses post-COVID | Genalyn Aquino and Amanda Lingao |
| 31-Aug-2020 | COVID-19 and Southeast Asian Policy Responses: Rethinking the 'Human Side' of the Pandemic | Guanie Lim and Chan-Yuan Wong |
| 07-Sep-2020 | Giving Birth amid COVID-19: The Predicament of Pregnant women in Myanmar | Saw Lin Htet |
| 11-Sep-2020 | Enhanced Movement Control Order (EMCO) and "Panic-exodus" in Malaysia | Wu-Ling Chong |
| 14-Sep-2020 | A Reflection on Striking the Balance between Rights and Duties in the Wake of Covid-19 | Zainab Nasir |
| 16-Sep-2020 | The Intensification of Thailand's Biopower Towards Migrant Workers | Ma. Josephine Therese Emily G. Teves |
| 21-Sep-2020 | COVID-19 exacerbates Vietnamese migrant workers' plight in ASEAN | Dinh Duc Nguyen |
| 22-Sep-2020 | Explaining the rise of hate speech aimed at Rohingya Refugees in Malaysia | Kevin Fernandez |
| 23-Sep-2020 | Mekong Migrant Workers in Thailand: Pursuit of Rights-based Approach in Addressing COVID-19 Impacts | Ma. Josephine Therese Emily G. Teves |
| 28-Sep-2020 | Low Connectivity amid Conflict and COVID-19: A Deadly Concoction in Rakhine State | Nyein Nyein Thant Aung |
| 28-Sep-2020 | The most affected people and communities at the heart and start of the Covid-19 crisis response | Patricia Miranda |
| 29-Sep-2020 | COVID-19 and the Rights of Indigenous Peoples in the Philippines | Jean Linis-Dinco |
| 29-Sep-2020 | Cambodia Needs to End its State Repression and "Double Standard" Narrative | Kimkong Heng |
| 30-Sep-2020 | Will the pandemic motivate the Vietnamese government to become more transparent? | Dinh Duc Nguyen |
| 30-Sep-2020 | The militarized COVID-19: An opportunity or a threat to democracy and human rights? | Chen, Li Li |
| 07-Oct-2020 | Strengthening the Law on Protection of the Marginalized amid COVID-19 | Nukila Evanty |
| 09-Oct-2020 | Filipino youth volunteerism in the time of Covid-19 | Kenneth Jim Joseph M. Jimeno |
| 12-Oct-2020 | How the Social Protection Programme could potentially Exacerbate Inequalities in Timor-Leste Amid Covid-19 | Therese Nguyen Thi Phuong Tam |
| 16-Oct-2020 | Inclusive Education amid Covid-19 in Cambodia | Neak Piseth |
| 16-Oct-2020 | COVID-19 is Driving Violent Extremist Dynamics in Southeast Asia With Distinct Gendered Impacts | UN Women Regional Office for Asia and the Pacific |
| 19-Oct-2020 | Brewing Violence and Irreversible Vulnerabilities as Indonesia Passes the Omnibus Law amid Covid-19 | Selma Theofany |
| 04-Nov-2020 | When a House is no Longer Home: Shedding Light on Domestic Violence amid Covid-19 | Lengga Pradipta |
| 06-Nov-2020 | Myanmar's Upcoming Election amid Covid-19: A Question of Inclusivity, Justice, and Equality | Zaw Win |
| 09-Nov-2020 | Saviour or Stigmatized? A Malaysia Perspective on COVID-19 Frontliners | Rashid Ating |
| 20-Nov-2020 | Thailand's Community Pantries: Cooking up a future for the Thai Civil Society? | Suthida Chang |
| 16-Dec-2020 | Dangers of Resiliency: The Exploitation of Volunteerism under the Guise of Civic Engagement | Angelyn Turiano |
| 18-Dec-2020 | Rethinking the Crisis of Liberal Capitalism After COVID-19 Pandemic: From the Perspective of Public Healthcare System | Yunkang Liu |
| 10-Feb-2021 | A Deadlier Pandemic: The Erosion of Human Rights and Democratization in Burma/Myanmar | Neak Piseth |
| 23-Mar-2021 | The Continuing Struggle for Justice and Accountability: Mirrors from the Marcos Regime | Angelyn E. Turiano |