When:
May 5, 2021 @ 2:00 pm – 4:00 pm
Asia/Bangkok Timezone
2021-05-05T14:00:00+07:00
2021-05-05T16:00:00+07:00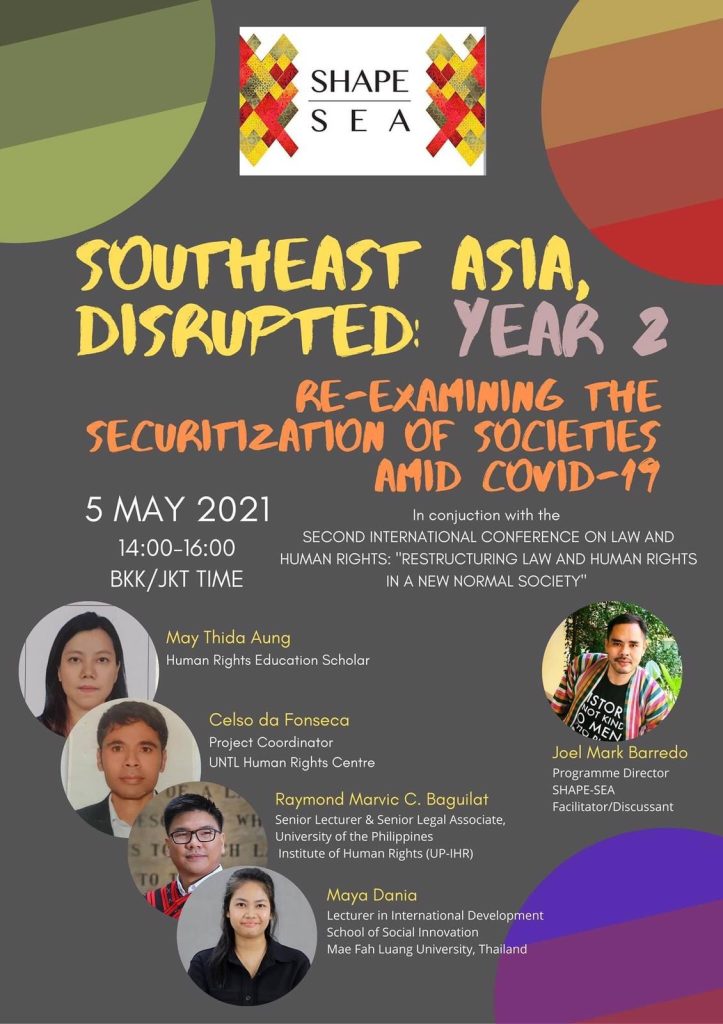 May 2021 5 May 2021 | 14:00-16:00 (GMT +7) Strictly RSVP.
Slots for 100 Pax maximum.
COVID-19 continues to expose cracks not just in public health governance, but in governing societies as a whole. Since the earliest outbreaks, we witnessed an exponential rise in inequalities and poor treatment of vulnerable individuals and groups. On top of economic emergencies, social and political crises remain a staple predicament in most parts of Southeast Asia. This is on top of the fact that responses to the pandemic still contain all the critical elements of securitization. This had resulted in a protracted deterioration of and attack on democratic institutions and values, as well as, economic, social and gender injustices across the region, particularly in fragile states such as Myanmar. As a follow-up to the panel entitled, "Southeast Asia, Dirsupted: Examining the Impacts of the Securitizaton of COVID-19" held in July 2020, this session shall critically re-examine the impacts of the pandemic on peoples living in the margins, and shall highlight analyses on the current state of human rights and democratization in the region, particularly Indonesia, Myanmar, the Philippines and Timor-Leste.