6-7 December 2017
Chulalongkorn University, Bangkok
The Outsiders' Role for Peace in the South was a two day national seminar was a collaborative effort between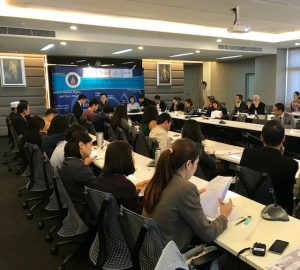 Center for Social Development Studies (CSDS), Faculty of Political Science, Chulalongkorn University and Institute of Human Rights and Peace Studies, Mahidol University.
It explored the roles of outsiders such as academic, civil society, media and policy makers who are not living in the South of  Thailand on their contribution towards peace in the Southern border provinces of Thailand.
Objectives
The three main objectives of the seminar were to
generate public analysis and knowledge on roles of outsiders and general public in Thai society for peace process and peacebuilding in the Southern Thailand among scholars and practitioners.
promote dialogue and collaborative networking among stakeholders from different sectors who are concerned with conflict and peace process in the Southern Thailand.
advocate and raise public awareness on involvement of outsiders and citizen in Thai society for peacebuilding in Southern Thailand.
Activity forum and substance
The seminar was divided into  two parts –  Public Forum: Academics-Practitioners Exchange (Day 1) and Multi-Stakeholders Platform (Day 2).
The keynote was presented by Dr. Gothom Arya.
Three panel discussions were presented. Each panel discussion explored the roles of various stakeholders – academe, civil society, and faith groups.
Speakers included academics – Dr. Mark Tamthai, Dr. Chantana Banpasirichote-Wangeo, Dr. Suchat Setthamanilee, Dr. Eakpant Pindavanija;
Civil society members – Reungrawee Pichaikul (Institute for Gender and Development Research), Yupa Poosahat (Asia Foundation), Pornpen Khonkajonkiat (Amnesty International Thailand), and Sunai Pasuk (Human Rights Watch); Prakeerati Satasutta (Peace envoy – swiss project), Abdulooh Mad-adam (Patani forum – Islamophobia and Perception of People from different regions towards Muslims in Southern Thailand), and Phakawadee Supanchitwana – Trends of Islamophobia in Northern Thailand.
The sessions were moderated by Dr. Duanghathai Booranacharoenkij,  Dr. Naruemon Thabchumpol, and Dr. Padtheera Narkurairattana.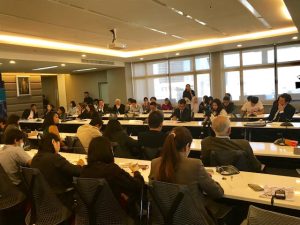 Day 1 was attended by over a 100 participants with representation from the academe, civil society, media (Prachathai, Thai PBS and Bangkok Post), and government (representative from the Ministry of Foreign Affairs, Thailand, representative from Embassy of Malaysia, Indonesia Embassy, Political Division -Sweden, Representative from the Embassy of the United States, Switzerland and the Kingdom of the Netherlands)
Day 2 was a closed door platform which brought together scholars and practitioners who are actively involved in Deep South conflict to discuss on networking and future collaboration for effective peace- building process.
Day 1 was streamed live through Facebook Live (สถาบันสิทธิมนุษยชนและสันติศึกษา ม.มหิดล) and has 4210 views.